Video: Ecuador fans chants "We Want Beer" in the 'no-alcohol' FIFA WC 2022 opener; Watch
The host nation Qatar imposed the complete ban on alcohol inside the stadium on Friday, two days before the tournament was officially scheduled to begin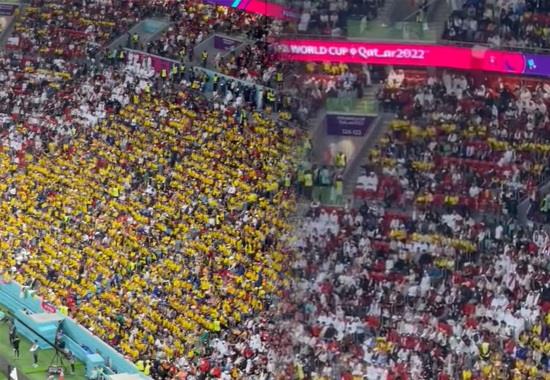 -

Beginning amidst a range of controversies the thrill surrounding the FIFA World Cup hosted by Qatar doesn't seem to stop anyway, with the latest one coming from the tournament's opener between the host and Ecuador.

Amidst the historic encounter, the Ecuador fans were heard chanting "We want Beer…" during the game, as the host nation Qatar has imposed a complete ban on the sale of beer in the stadium during the game which has created a lot of controversies and widespread uproar among the fans.

The video from the incident is extremely going viral on social media where the Ecuadorian fans started chanting in unison from the stand, "Queremos Cerveza, Queremos Cerveza!" implying "We want beer!"

Watch the Video Here:
#ECU fans are chanting "queremos cerveza, queremos cerveza!"

Which translates to "we want beer, we want beer!" pic.twitter.com/mQcn6YKVjN

— World Cup Updates (@wc22updates) November 20, 2022
Here's why India has never played in the FIFA World Cup
Ecuador thrashed the host nation Qatar by 2 to nil in the opening game by creating history as this was the first instance in the 9 decades long history of the FIFA World Cup when a host nation has been defeated in the opening game of the tournament on Sunday at the Al Bayt Stadium.
A post made on the video read, "Ecuadorian fans chanting "Queremos Cerveza!" meaning "We want beer!" during the opening world cup match in Qatar. Qatar U-turned 2 days before the start of the tournament in banning the sale of alcohol in regular seating sections of stadiums."
A couple of days before on Friday when the game was officially scheduled to begin the Qatari Royal Family came up with the decision to impose the ban on alcohol inside the stadiums. The global governing body of the game later announced that beer would not be sold to fans around any of the eight World Cup stadiums following discussions with the hosts.
However, the beer is only made available to the fans coming to the Arabian nation to cheer for their team in the restricted fan zones only apart from being available in the hospitality boxes inside the stadium.