Published On
VIRAL: Anupamaa's daughter-in-law Kinjal's romance with father-in-law Vanraj Shah will blow your mind
The cast of the television show "Anupama" is highly active on social media. Vanraj alias Sudhanshu Pandey just uploaded a video that would shatter Anupama's mind.
Author :
Sheetal J Bhalla
New Delhi: The TV programme 'Anupama' is the most popular show. Every character in this show is adored by the audience. Since Anupama's divorce from Vanraj, the programme has taken on a new track. Anuj Kapadia, who sprinkles his life on Anupama, has also been entered. Despite all of the twists, the performers manage to have fun in real life.
Cute video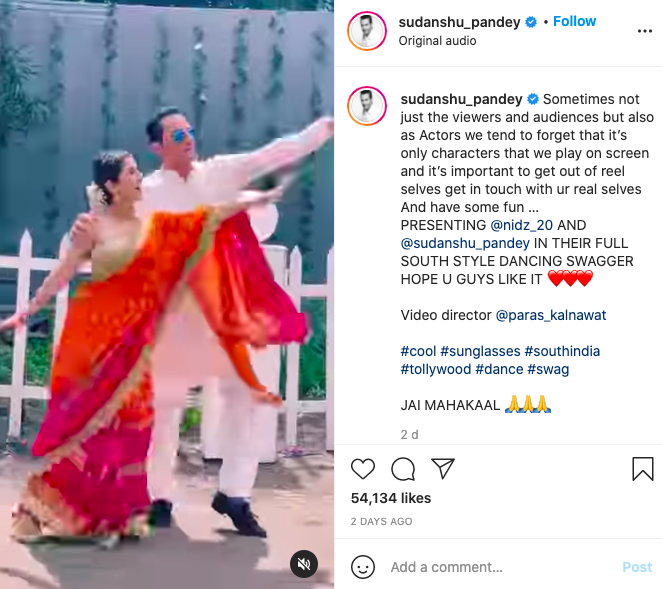 In this video, Nidhi Shah and Sudhanshu Pandey look fantastic together. Both had danced on the Telugu film 'Maari 2"s song 'Rowdy Baby.' This video has a lot of fans. Vanraj alias Sudhanshu Pandey is dressed in a white kurta-pyjama in the video, while Nidhi Shah is dressed in a gorgeous sari with an orange and pink combination.

Whats on the show
Vanraj (Sudhanshu Pandey) is still angry by Anuj-Anupama's agreement and is unable to comprehend anything. Vanraj's current state is that of a loser; he is not even seen standing near Anuj Kapadia. Rakhi Dave would provide Vanraj with an offer in this situation. She'll claim that they work together to thwart Anuj-business Anupama's strategy. She will also state that she will assist them fully.

Vanraj is certain that Anuj Kapadia and Anupama's scheme would fail, causing Anuj to be disappointed. Simultaneously, he will understand that he has selected the unsuitable companion. Anuj and Anupama, on the other hand, have begun working on their action plan. Both have planned how to establish a five-star hotel. In this situation, it will be interesting to watch if Vanraj (Sudhanshu Pandey) accepts Rakhi Dave's offer. Will he join forces with his enemy to seek revenge from Anupama and Anuj? It'll be fascinating to see what Anuj and Anupama comes up with a new strategy to fight against Vanraj and Rakhi Dave strategy.