Published On
VIRAL Video: Like father like son, Son of Sri Lankan legend Muttiah Muralitharan has similar bowling action
Muttiah Muralitharan posted a bowling action comparison video with his son on Twitter. Netizens went frenzy on watching Muralitharan's carbon copy bowling action from his son in the nets.
Author :
Sheetal J Bhalla
Muttiah Muralitharan and his son Naren reflect the phrase "like father, like son." Muttiah Muralithan, a former Sri Lankan off-spinner and a cricketing great, has shared a comparison video of his and his son's bowling action. Naren's imitation of Muralitharan, his father's bowling action, sent Twitter into a frenzy.

Both father and kid can be seen bowling in the nets in the video. Naren's bowling video is on the left, and Muralitharan is on the right. "Father and Son Time!" the Sri Lankan great captioned it. video credits @SunRisers.

His son's bowling motion is almost identical to his father's. Muralitharan resigned from international cricket in 2011 following the World Cup match against India and Sri Lanka at Wankhede Stadium in Mumbai, India. See video here.


In the Indian Premier League, he became the bowling coach for the SunRisers Hyderabad franchise. It's also clear that he worked on his son's bowling action in order to help him get started in the sport.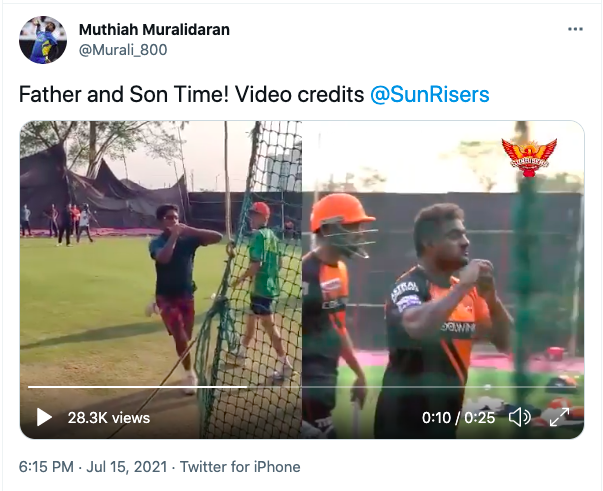 In international cricket, Muralitharan was known as a "game-changer" for Sri Lanka. In 1996, he was a member of the Arjuna Ranatunga-led Sri Lankan side that won their first World Cup title. Muralitharan's bowling had helped Sri Lanka win trophies on numerous times.

Murali is one of the best wicket-takers in the world, with 1,347 wickets. In both Tests and ODIs, he holds the record for most wickets. He took 800 Test wickets in 133 matches, as well as 534 ODI wickets and 13 T20I wickets.
Also Read: INDIA Vs SRI LANKA: India beat Sri Lanka by 7 wickets in its 1st ODI match in Colombo

Many batters still have nightmares about Muralitharan. Murali used to surprise even the most dangerous batsmen of the time with his unique bowling style. Although he is known for his cool demeanour, he recently lashed out at four Sri Lankan sportsmen over their national contract disputes with Sri Lankan Cricket. "This year we think they don't need a central contract, we can go with tour contracts," he had said in an interview.

Recently Muttiah Muralitharan voted 'Greatest Men's Test Bowler' of 21st century

Star Sports commentators and fans on Sunday voted Muttiah Muralitharan as the Men's Test Bowler of the 21st century.

World records held by Muralitharan
The most Test wickets (800 wickets)
The most One-Day International wickets (534 wickets)
The most 5-wicket hauls in an innings at Test level (67)
The most 10-wicket hauls in a match at Test level (22)