Published On
Who is Ayesha Omar? Pak actor's name pops out amid Sania Mirza-Shoaib Malik divorce
Shoaib Malik cheating reports have taken the center stage and the name of Pakistani actress Ayesha Omar has been coming.
Author :
Ujjwal Samrat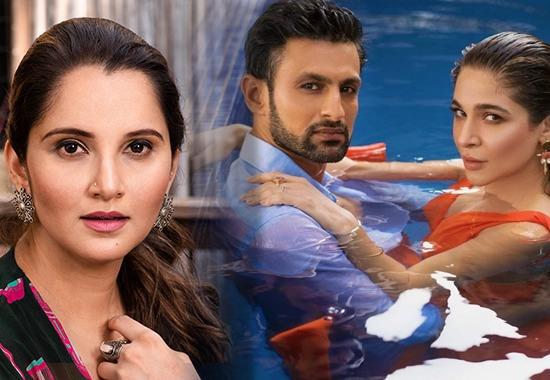 Amidst ongoing reports on Sania Mirza-Shoaib Malik divorce, Pakistani model and actress Ayesha Omar's name has popped out. Reports suggest that Sania Mirza and Shoaib Malik have parted ways and only paperwork needs to be done to confirm their divorce. Amidst this, fans are wondering about Sania Mirza Shoaib Malik divorce reason. DNA reported that the couple parted ways after Sania Mirza found out that Shoaib Malik was allegedly cheating on her, however, the authenticity of the report is yet to be known. Now, Shoaib Malik cheating reports have taken the center stage and the name of Pakistani actress Ayesha Omar has been coming.
For the unversed, Shoaib Malik did a bol photoshoot in 2021 with Ayesha Omar. In fact, Malik in an interview praised Ayesha saying she helped him quite a lot in their bold photoshoot. However, Malik did not say anything about what Sania Mirza said in their controversial photoshoot. Instead of answering the question, Malik simply asked the woman co-host of the show, "What would your reaction be if your husband had done it?" On this, she quickly replied that she was unmarried. Malik said similarly his wife did not react; she behaved as if she does not exist.
Now the question arises who is Ayesha Omar?
Know the reason behind Sania Mirza and Shoaib Malik's divorce
Ayesha Omar is a Pakistani actress and YouTuber who was born on 12 October 1981. Ayesha is also considered as a style icon in her home country, Omar is one of the most popular and highest-paid actresses of Pakistan. In 2012, she released her first singles 'Chalte Chalte' and 'Khamoshi' which was a commercial success in Pakistan. Omar went on to win Lux Style Award for Best Album. She made her film debut in the lead role with successful romantic-comedy Karachi Se Lahore in 2015, followed by supporting characters in war film Yalghaar (2017) and the drama Kaaf Kangana (2019).
Sania Mirza-Shoaib Malik Marriage
The couple got engaged to Shoaib Malik in 2009. The next year, they got married on April 12, 2020. Malik and Mirza got married to each other in a traditional Hyderabadi Muslim wedding ceremony at the Taj Krishna Hotel in Hyderabad which was followed by Pakistani wedding customs for a mahr of Rs 6.1 million (US$137,500). The 'Walima' ceremony was held in Sialkot, Pakistan. Sania Mirza announced her pregnancy via social media on April 23, 2018. After that, on October 2018, Malik took to his Twitter to announce that Mirza had delivered a baby boy and named him Izhaan Mirza Malik.