Published On
Who is Mittali Parulkar? Everything about Team India player Shardul Thakur's wife-to-be
Mittali Parulkar is Shardul Thakur's high school sweetheart. She runs All the Jazz Luxury Bakes, which deals in cakes and pastries Author :
Ujjwal Samrat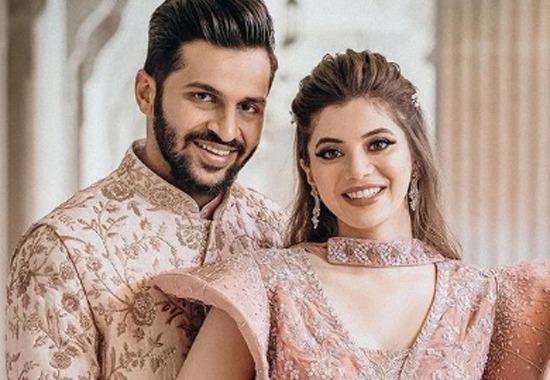 Seems like Bollywood and cricketers are on a wedding spree as Team India allrounder Shardul Thakur is all set to be married to his fiance Mittali Parulkar. Shardul Thakur will be marrying Mittali Parulkar on February 27, 2023. Shardul Thakur's wedding rituals have already begun and there are multiple videos and photos are going viral on social media, Whether it is Shardul Thakur's haldi ceremony or Shardul Thakur's Sangeet, the cricketer is indeed enjoying his pre-wedding rituals in the presence of cricketing friends, relatives and family friends. After KL Rahul and Axar Patel, Shardul Thakur is the recent cricketer to give up his bachelor tag and marry Mittali Parulkar. Now, the question arises who is Mittali Parulkar or who is Shardul Thakur's wife Mittali Parulkar? To know continue reading-
Who is Mittali Parulkar?
As per reports, Mittali Parulkar is Shardul Thakur's high school sweetheart. Mittali Parulkar runs All the Jazz Luxury Bakes, which deals in cakes and pastries. She founded the bakery in 2020 and has been running it successfully. Mittali Parulkar was born in 1992 in Mumbai. Both Mittali and Shardul have entered their 30s. The couple will tie the knot on Monday, February 27. According to the reports, many celebrity cricketers will attend the wedding ceremony. Mittali is also an animal lover. However, not much information is available about her as she likes to keep her life private. Shardul Thakur played in the T20 World Cup 2021 in United Arab Emirates (UAE). However, he appealed for relaxation after the World Cup. Thakur is more active on social media than his fiance. He keeps posting pictures on Instagram with his teammates. Shardul Thakur and Mittali Parulkar got engaged on November 2021 in a private ceremony in Mumbai. The engagement ceremony happened at the Bandra-Kurla Complex with around 57 guests. Mittali Parulkar has more than 4 thousands followers on Instagram, however she has kept her account private.
Shardul Thakur's pre-wedding rituals
Coming to Shardul Thakur's pre-wedding rituals, Team India captain Rohit Sharma and star batter Shreyas Iyer were seen together in Mumbai attending Indian Shardul Thakur's wedding functions. Shreyas Iyer shared a post on his Instagram handle with the Indian captain and wrote a very interesting caption to the post. Shreyas captioned the post, "Worli ke chapri." The caption of the post is now going viral and the fans also seem very happy to see both the players together. Shreyas Iyer and Rohit Sharma both are from Mumbai and have also played a lot of first class cricket together. Apart from Shreyas and Rohit, Yuzvendra Chahal and Dhanashree are also present at Shardul's wedding. Not only this, but Shardul Thakur and Mittali Parulkar's sangeet video is also going viral in which the cricketer can be seen dancing with his wife-to-be.
Akshay Kumar's son Aarav to not join Bollywood; Selfiee actor reveals son's dream