Published On
Who physically assaulted Yuzvendra Chahal? Name of two International cricketers pop-out
Yuzvendra Chahal physical assault case came into the spotlight when in a conversation with Ravichandran Ashwin, the 31-year-old leg-spinner had revealed that in IPL 2013 he was hung from the 15th-floor balcony of a hotel by an inebriated bully cricketer
Author :
Malkit Singh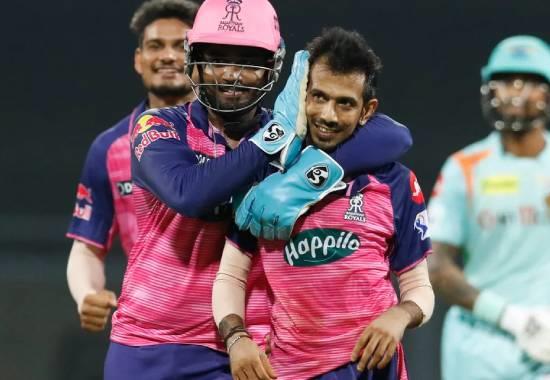 Rajasthan Royals' leg spinner
Yuzvendra Chahal
has sparked a massive and serious row amidst the ongoing IPL 2022. The former RCB leggie who now plays for Rajasthan Royals had stated that he was subjected to physical abuse and bullying during his stint with Mumbai Indians. Yuzvendra Chahal physical assault case came into the spotlight when in a conversation with Ravichandran Ashwin, the 31-year-old leg-spinner had revealed that in IPL 2013 he was hung from the 15th-floor balcony of a hotel by an inebriated bully cricketer, which left him "kind of fainted".
Although Yuzvendra Chahal did not name the cricketers who had bullied and physically assaulted him, fans and former cricketers including Virendra Sehwag requested the leggie to name the cricketers so that this don't take place in future with other young cricketers. However, Chahal remained tight-lipped and focused at the ongoing IPL 2022. Amidst Yuzvendra Chahal physical assault row, an old podcast of leggie during his stint with RCB went viral.
In a year-old RCB podcast, Chahal had recalled an incident from 2011 when his then Mumbai Indians teammates James Franklin and Australian all-rounder Andrew Symonds had allegedly tied him up while celebrating their win in the Champions League final that year. Chahal also alleged that the duo had taped his mouth, left him in a room and forgot about him for a whole night.
"It happened in 2011, when Mumbai Indians won the Champions League. We were in Chennai. He [Symonds] had had a lot of 'fruit juice. I don't know what he was thinking, but he and James Franklin got together and tied my hands and legs and said, 'no, you've to open'. They were so lost that they taped my mouth and forgot about me completely during the party. Then they all left and, in the morning, someone came to clean [the room] and saw me, and called a few others and untied me," Chahal had said in the RCB podcast.
Durham to have a closed-door conversation with James Franklin
Notably, the former New Zealand allrounder is currently serving as Head Coach of County Team Durham. Following Chahal's allegations Durham has finally broken its silence and has stated that it will talk to James Franklin regarding the accusations. "We are aware of recent news reports surrounding an incident in 2011 which name a member of our staff. As with any matters involving employees, the club will speak privately with all parties involved to determine the facts," said a Durham official while talking to ESPNcricinfo. It is pertinent to mention here that Franklin was part of the Mumbai Indians squad from 2011 to 2013.