Published On
Know Zaira Wasim who shares first photo in BURKHA, two years after quitting Bollywood
Zaira Wasim, who rose to prominence in Bollywood with films like Dangal and Secret Superstar, declared in 2019 that she will no longer pursue a career in the industry.
Author :
Sheetal J Bhalla
Zaira Wasim, a former Bollywood star, made a rare appearance on Instagram. On his photo-blogging account, the actor, who rose to prominence with films like Dangal and Secret Superstar, has mostly been sharing quotes. Zaira is wearing a burkha and strolling on a bridge in a recent Instagram photo. She is facing the camera with her back to it.


"The warm October sun..." she captioned the photo.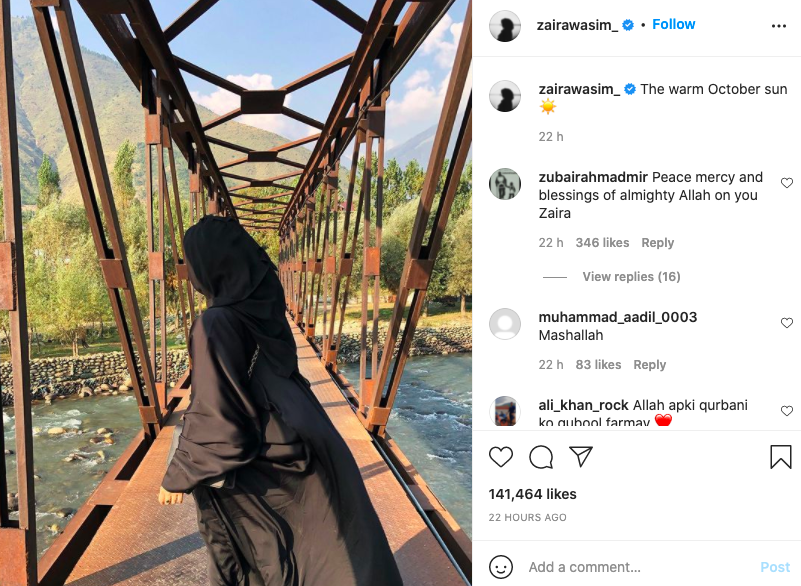 Zaira declared in 2019 that she would no longer be performing because she was unhappy with her field of work, claiming that it conflicted with her beliefs and religion. Last year, she asked followers to remove all of her photographs from social media accounts and not publish them on her Instagram account. She went on to say that she was attempting to start a new chapter in her life.
Also Read: PM Modi Condoles Death of Arvind Trivedi 'Ravana' From TV Cult Hit 'Ramayan'






She wrote, "Hello everyone!! I want to just take a moment to thank each of you for the constant love and kindness you have showered me with. Y'all have been a constant source of love and strength, thank you for being there to support me through everything. I request you to please take down my pictures from your accounts and ask other fan pages to do the same.'

'It's obviously IMPOSSIBLE to get them off the internet but the least I can do is request your pages not to continue sharing them. I hope you could help and support me through this just like you've supported me through everything. "I'm trying to start a new chapter in my life and I could really benefit from your cooperation — (like a lot!!). Thank you for being a part of my journey." She concluded.


About Zaira Wasim
Zaira Wasim is a former Indian actress who starred in Hindi films. She was born on October 23, 2000. Wasim was honoured with the National Child Award for Exceptional Achievement by Ram Nath Kovind, the President of India, at a ceremony in New Delhi in 2017. She has won several awards, including a Filmfare Award and a National Film Award.

Zaira rose to prominence after starring in Dangal, a film starring Aamir Khan that was a box office smash both at India and abroad which emerged with the highest-grossing Indian film, grossing more than ₹2,000 crore ($300 million) worldwide. Following that, she featured in another Aamir Khan film, Secret Superstar, which became the highest-grossing Indian film with a female protagonist. Her most recent film, The Sky Is Pink, starring Priyanka Chopra and Farhan Akhtar for which she awarded Filmfare Award for Best Supporting Actress nomination, despite underperforming commercially.