'Dropped catch deliberately': Arshdeep Singh gets angry after fan abuses him outside stadium post India's loss in Asia Cup 2022
Following India vs Sri Lanka Asia Cup 2022 match, Arshdeep Singh on Tuesday yet again faced the hate of a fan.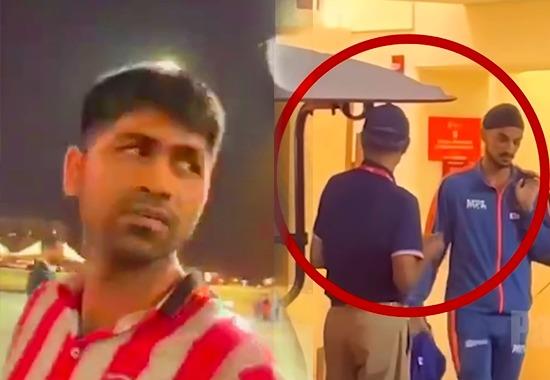 -

In yet another nail-biting contest, India on Tuesday was defeated by Sri Lanka in a must-win match by 6 wickets in Dubai. With back-to-back defeats in Asia Cup 2022 group matches, India is now standing on the brink of elimination. While many cricket experts are saying the Asia Cup 2022 debacle was a great wake-up call for the Indian team, fans are not happy with the way the 'Men in Blue' performed on the field. India's loss against Pakistan on Sunday has still not wet well for the fans, especially Arshdeep Singh's 'vital' drop catch of Asif Ali. Following India vs Sri Lanka Asia Cup 2022 match, Arshdeep Singh on Tuesday yet again faced the hate of a fan. In fact, Arsheep Singh was accused by a fan of dropping the catch of Asif Ali deliberately.

The shameful incident took place when Team India players were boarding the bus outside the stadium after the loss against Sri Lanka. In the Arshdeep Singh angry viral video, it can be seen when the 23-year-old speedster was on his way out boarding the bus in the presence of fans and media persons, an 'insane' fan started hurling abuses and stated that he had deliberately dropped the catch of Pakistani player Asif Ali which ultimately became the deciding factor at the end of India vs Pakistan match.

Listening to the shameful remarks, Arshdeep Singh paused for a bit and angrily stared at the fan for coming up with such insensitive comments. Arshdeep Singh has been facing a lot of heat on social media ever since he has dropped the catch against Pakistan. In fact, many Pakistan-based social media accounts had started the trending 'Khalistani' in order to label the young speedster 'Anti-India'. Moreover, Arshdeep Singh's Wikipedia page was also vandalized by an unidentified person in which the 23-year-old speedster was labeled as 'Khalistani'. Later, the IP address was traced to Pakistan which had vandalized Arshdeep Singh's Wikipedia page.

Watch Arshdeep Singh angry at fan viral video
Arshdeep Singh is abused after the match.#arshdeepsingh #INDvSL #RohitSharma #ViratKohli #INDvsSL #RishabhPant pic.twitter.com/HLxRoLds0h

— Cricket Videos🏏 (@Crickket__Video) September 7, 2022
Talking more about Arshdeep Singh Asia Cup 2022 viral video, the shameless fan was later scolded by a journalist present there at the time, and a witness to what the person had said, lambasted him up for his remarks and gave him a proper dressing down. The shameless fan eventually had to apologise before security personnel and the people standing there.
Pakistan orchestrated Arshdeep Singh's trolling? Twitter thread's big expose on India-Pak Asia Cup 2022 match
It is pertinent to mention here two most senior players of the Indian Cricket Team, Virat Kohli and Rohit Sharma have backed Arshdeep over the drop catch. While Virat Kohli had said that mistakes can happen in such a pressure game, Rohit Sharma lauded Arshdeep for his brilliant bowling effort in the last over of the match against Sri Lanka on Tuesday.