Published On
'Afghanistan should cry, Allah punished them': Shoaib Akhtar sparks row after Pakistan storms into Asia Cup 2022 final
Former Pakistani cricketer, Shoaib Akhtar has sparked a controversy by saying that Afghanistan deserved to cry as 'Allah' (Almighty) punished them
Author :
Ujjwal Samrat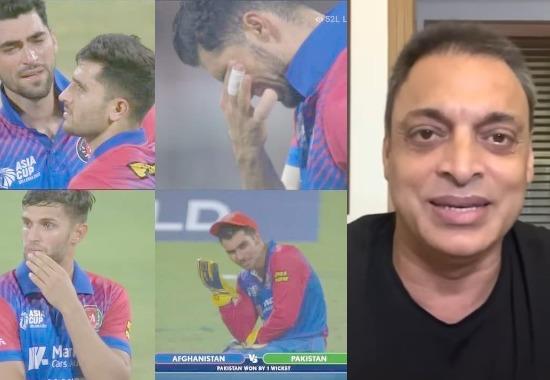 Pakistan vs Afghanistan Asia Cup 2022 match turned out to be a blockbuster with Babar Azam & Co. defeating Mohammed Nabi & team by 1 wicket at the Sharjah Cricket Stadium on Wednesday. The Pak vs Afg indeed turned out to be a thrilling encounter as almost every emotion- anger, sorrow, aggression- flared in the nail-biting encounter. Pakistan's thrilling victory over Afghanistan by 1 wicket was sealed by the heroics of Naseem Shah when he hit back-to-back two sixes in the final over of the match. During Pakistan vs Afghanistan match, not only Asif Ali and Fareed Ahmad were involved in a heated argument but also fans from both sides were involved in violent clashes. In fact, Pakistani fans were reportedly beaten by Afghanistan fans in Sharjah Cricket Stadium. Now, former Pakistani cricketer, Shoaib Akhtar has sparked a controversy by saying that Afghanistan deserved to cry as 'Allah' (Almighty) punished them.
Shoaib Akhtar on his YouTube channel lambasted Afghanistan Cricket Team and accused them of abusing and misbehaving with Pakistani cricketer Asif Ali. In order of doing so, Akhtar not only said that 'Allah' has punished Afghanistan but also stated that his country give them refugees but in return, they act like this.
"We as a nation always love and support Afghanistan during their tough times, what was that behaviour after dismissing Asif Ali, who pushed him around and even abuse him? You play cricket, show your passion but such arrogance should not be shown isilye allah ne aapko Saza di, isilye ne aalah ne ek pathan ko duusre pathan se chakka marwake zaleel kiya, aur rote hui gayi Afghanistan team (and this is the reason why the almighty punished you, and this is the reason why the almighty made a Pathan (Naseem Shah) hit a six against you, and you were humiliated and Afghanistan team went out crying)," said Shoaib Akhtar on his YouTube channel.
Asia Cup 2022: Pakistani fans get beaten after they mock Afghanistan's fans at Sharjah Cricket Stadium; Video Viral
Afghanistan vs Pakistan Asia Cup 2022
There are multiple Pakistan vs Afghanistan fans fight videos have been doing rounds on social media. Reportedly, Pakistani cricket fans got into an argument with Afghan cricket fans in the stadium, after which Afghan fans hit back and beat up the Pakistani fans mercilessly. Notably, Pakistan Afghanistan fans fight not only took inside the stadium but also outside the stadium. Another viral video shows, fans clashing at road in Dubai.
Coming back to the match, Pakistan stormed into Asia Cup 2022 finals. All-rounder Shadab Khan was adjudged man of the match for his crucial and quick-fire 36 runs off 26 balls. Shadab also took the crucial wicket of Najibullah and gave away only 27 runs in his 4 overs spell while he was bowling.