'Danushka Gunathilaka met woman on dating app': Sydney Police give details of SL player's arrest after T20 WC
Danushka Gunathilaka was arrested after a 29-year-old woman alleged that the 31-year-old Sri Lankan cricketer sexually assaulted her at a residence in Rose Bay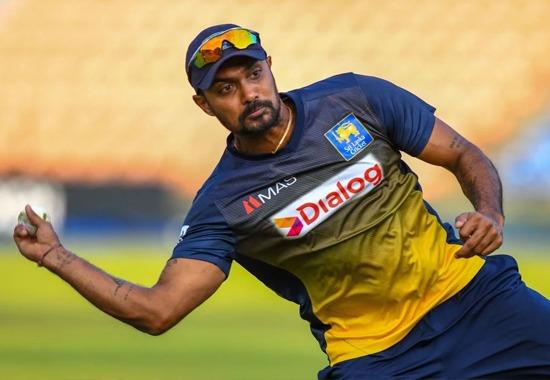 -

While the T20 World Cup 2022 is currently going on in full swing, the cricketing world was shocked on Sunday when Sri Lankan cricketer Danushka Gunathilaka was arrested by Sydney Police on rape charges. Australian media reported that Danushka Gunathilaka was arrested from a hotel where the Sri Lankan Team was staying in the early hours of Sunday. Furthermore, Sri Lankan Team left Australia without Danushka Gunathilaka as their T20 World Cup 2022 was over on Saturday. On Monday, Danushka Gunathilaka was denied bail by a court in Sydney. Following that Sri Lankan Cricket Board suspended Gunathilaka from all forms of cricket.

Now, for those who still do not know how the cricketer was accused of rape charges, here's what Sydney Police in its statement told the media-

Danushka Gunathilaka rape case details

As per Sydney Police, Danushka Gunathilaka was arrested after a 29-year-old woman alleged that the 31-year-old Sri Lankan cricketer sexually assaulted her at a residence in Rose Bay. Furthermore, Gunathilaka reportedly met the woman through a dating app in Australia when he was with the team for the T20 World Cup 2022. "The woman met with the man after communicating with him for a number of days via an online dating application; it's alleged he then sexually assaulted her on the evening of Wednesday 2 November 2022," a New South Wales police statement said.

Sri Lanka cricketer Danushka Gunathilaka arrested for alleged sexual assault in Sydney

Sri Lankan cricket board statement on Danushka Gunathilaka rape case

After suspending the cricketer from all forms of cricket, Sri Lankan Cricket Board in its statement said, "the Executive Committee of Sri Lanka Cricket decided to suspend national player Danushka Gunathilaka from all forms of cricket with immediate effect and will not consider him for any selections after being informed that Mr. Gunathilaka was arrested and charged with sexual assault of a woman in Australia."

Notably, Gunathilaka attended court via a video link. The bail hearing took place at the Downing Centre court in Sydney. However, he was denied bail as earlier mentioned.