Published On
FirstStoryPositive: Teacher's 16 Years of Tireless Efforts Turn 13 Barren Hills Green
Sudhir Rout, a school teacher in Odisha's Berhampur district, overcame the destruction caused by recurrent cyclones for 16 years to write a spectacular success tale of environmental conservation.
Author :
Sheetal J Bhalla
This is an inspirational story of Sudhir Rout, an Odisha native, who became the principal of the Nalanda Residential College in Vijayawada in 2002. He discovered that the 150 engineering students were hesitant to attend lessons a few months after taking over the institute.

He told in an interview that the classrooms had tin roofs, which made it uncomfortable for the kids, especially because Vijayawada is one of India's hottest cities. This, along with filthy restrooms and inadequate infrastructure, aggravated the situation.
Sudhir chose to upgrade the school's infrastructure and plant saplings to increase the amount of greenery on campus in 2003. "I planted saplings of several types that would provide a wide canopy over the classrooms. The canopy grew over the next few years, protecting the classes from severe heat and making the environment more pleasant," the 59-year-old adds.
Also Read: FirstStoryPositive: Meet 42-year-old first armless man to get a driving licence

"Before this, I had no interest in the environment or trees. However, I was struck by how the flourishing atmosphere had aided in improving student attendance. As a result, until 2005, I resumed plantation drives here," he says.

In the same year, he returned to Berhampur and established Aryabhatt Coaching Centre, which provides private physics tuition. Along the way, he maintained his environmental activities. "I started planting trees along highways and vacant public spaces," he says, adding that he attempted but failed to plant 50 trees around a lake.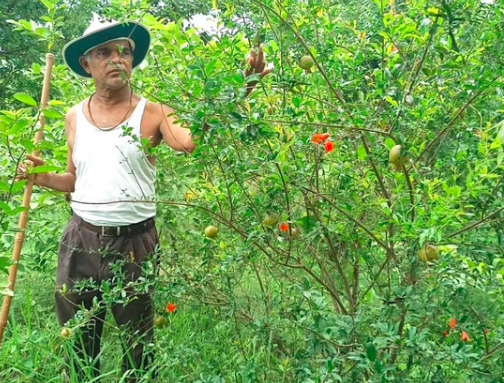 He planted another batch of 300 saplings along the roadways in 2008, and this time he was successful. "At that moment, no one was able to assist me. "However, I believed that planting trees would bring people closer to the forest and nature," he explains.
Also Read: FirstStoryPositive: Jamshedpur's Uniquely Staffed Cafe Empowers The Deaf & Mute

Sudhir went ahead in 2010 by utilising a car to raise public awareness. "The vehicle, dubbed Sabuj Rath (green chariot), was equipped with a microphone and loudspeaker. I began broadcasting messages emphasising the significance of environmental and natural resource protection in the hopes of inspiring others to join the cause," he says.

However, he suffered a blow in 2013-14 when most of his roadside plantings were destroyed owing to road expansion construction. Cyclone Phailin was the next to arrive. "The damage was significant, but I was able to rescue 90% of the damaged or uprooted trees," he adds. He decided to choose a safer location for the plants after learning from the failures.

He discovered a 32-hectare common space in Ganjam block in 2016, where people could graze their animals. He planted 1,100 seedlings in an area where the soil was deteriorated and unsuitable for plant growth. "From outside, I imported fertile soil to layer as well as provide nutritious value. "Around 1,000 plants were saved as a result of the effort," he reveals.
Also Read: FirstStoryPositive: Meet leading actor Mayur Mehta, who rose from scratch after his life took dark turn

Sudhir concentrated on low-maintenance natural trees like the banyan, date, and other kinds. He also enlisted the assistance of the forest department, as well as school and university students.

"In 2017, a group of approximately 100 volunteers gathered to drop 1.5 lakh native seed balls onto local hillocks. "With 40,000 plants, around 30% germinated," he adds.

Sudhir goes on to say that the same year he found another 5-acre plot of land on which to plant 5,000 trees. He explains, "We turned it into a reserve forest and planted shade-giving and fruit-bearing trees like jamun, coconut, pomegranate, and others."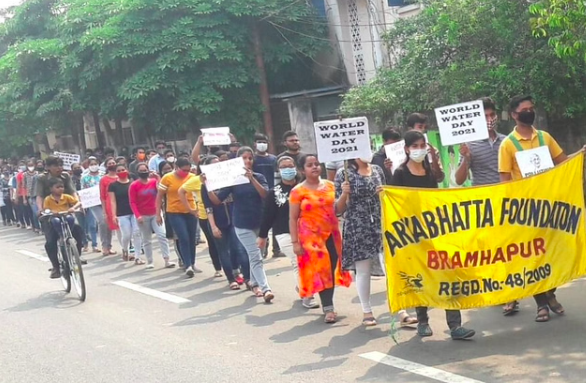 He also enlisted volunteers in awareness campaigns by establishing groups of 20-25 people and assigning them th
e task of speaking about environmental conservation in their communities.
Aside from encouraging tree planting, the volunteers also raised awareness about the need of preserving existing green space and decreasing water pollution. Residents were urged to avoid dumping trash in bodies of water.

Sudhir persuaded other people in neighbouring regions to turn nine hillocks into green covers. Now the number of hillocks has totalled 13 today.
Over 80,000 seedlings have been planted thus far.

"The trees from the earlier plantings have begun to yield fruit. However, it would take a few more years for the trees to provide enough fruit for the people to profit from selling or eating them," he explains.

The people have seen the soil quality improve and its water retention capacity rise, resulting in less erosion during severe weather.
"Wildlife such as rabbits, peacocks, blackbucks, butterflies, and others have been attracted to the increased greenery. Rabbits have become commonplace, and locals who frequent the region on a daily basis report seeing them," he says.

Sudhir claims that he has spent about Rs 32 lakh on tree planting and other green initiatives since 2002. "All of my earnings have been gone. It's also tough to convince the public of the value of the environment. "They may not always understand all elements of nature," he explains.

Sudhir claims that he prefers to operate without the help of the government or commercial groups so that their policies have less influence.

This was the motivational story of a simple man. So, if Sudhir can do, you can also take the initiative to plant more trees.
It is the environment around us that flourishes and supports us, and just because of that society grows.
We should focus on working towards the green cause since it helps with oxygen, fruits, and many other aspects of people's lives.