Published On
Raj Kundra PORN case: Gehana Vasisth defends Raj Kundra, goes nude for Instagram live. See VIDEO
She did this live session because she wanted to know if she appeared to be 'vulgar' or 'cheap' to her viewers
Author :
Sheetal J Bhalla
Actress Gehana Vasisth, who is on bail for a pornographic case, was recently seen going live on Instagram. Her video quickly went popular on social media. For a live session, the actress chose to go nude.
She did this live session because she wanted to know if she appeared to be 'vulgar' or 'cheap' to her viewers. She may even be seen asking them if it's pornographic. In the footage, Gehana is seen repeatedly claiming that she is not wearing anything. She captioned the video she shared on her handle, saying,"without cloth live. m without cloth in this video but no one telling that it's a porn but when I wear all the cloths , some ppl claim porn. height of hypocrisy". See video here.
"His detention is entirely illegal because the police have kept him in custody for 7-8 days and in the meantime they have stolen his mobile phone, laptop, CDs, and bank account details," Gehana Vasisth previously told leading news channel regarding
Shilpa Shetty's husband businessman Raj Kundra's arrest in a pornography case
. She said, " If they want to look into it, they already have ample evidence. What is the point of keeping him in custody? The chargesheet has been filed for months now?"
Also Read: Porn Racket Case: Tv actress Gehana Vasisth gets bail after five months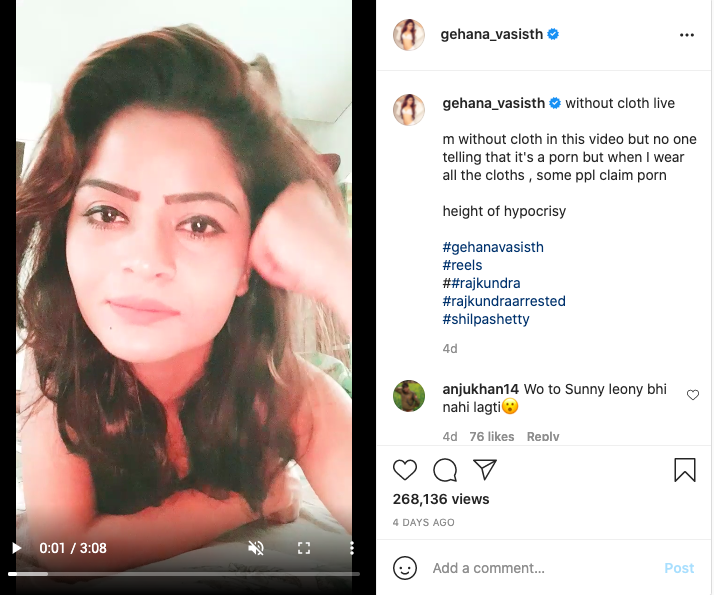 "They claim that 91 videos have been discovered," she continued. They are free to speak whatever they want. Where is the evidence? When I was arrested, they said the same thing: they had discovered 80 or so videos. That's why, yesterday, I had a live video session in which I was completely naked. It wasn't obscene and didn't fall into the pornographic category.

(You can't judge a book by its cover) Cover dekh ke andar ki cheez decide kar lena galat baat hai Raj Kundra's name was not mentioned in the chargesheet, and even if it was, why wasn't he arrested at the time? "What prompted the cops to intervene after six months?"

Meanwhile, Gehana submitted a pre-arrest bail petition last week, citing a fear of police arrest. She received no temporary relief from a Mumbai sessions court on Tuesday. The hearing has been postponed until August 6.
Also Read: Raj Kundra Pornography Case: After his arrest, Model Sagarika Shona Suman reveals Kundra's company asked for 'nude audition'
Raj Kundra was also denied bail by the magistrate. The nature and degree of the offence is one of the considerations for refusing or granting bail, according to additional chief metropolitan magistrate S B Bhajipale's comprehensive order.

The court also noted that the he destroyed a large amount of data that may have been used against them as evidence. "There is every possibility of tampering with the evidence if the accused are freed on bail in such circumstances," it said.

Kundra set up a firm, Armsprime Media Pvt Ltd., which produced a mobile phone application called "Hotshots" and sold it to London-based Kenrin Pvt Ltd, which is owned by his brother-in-law, according to the property cell. Kundra allegedly used the app to submit pornographic movies shot in and around Mumbai in exchange for paid app viewership.
Police claimed to have discovered 51 obscene videos at Kundra's office in Andheri west, with 35 videos bearing the "Hotspots" logo and 16 bearing the logo of "BollyFame," an app developed by the 45-year-old businessman after "Hotshots" was removed from Apple and Google's respective app stores, as well as YouTube.