Published On
'WE'LL NEVER FORGET YOU': Cristiano Ronaldo Condoles Friend Jose Semedo after sudden death of his wife
Soraia, Semedo's wife, died on Thursday morning after suffering from health complications brought on by an infection.
Author :
Sheetal J Bhalla
Cristiano

Ronaldo immediately came to assist his close friend, a former teammate at Sporting Lisbon early in their careers.




And now, on Instagram, Ronaldo has spoken out about the tragedy.


Manchester United's 36-year-old player tweeted a lovely photo of himself and girlfriend Georgina Rodriguez having a lunch with Jose and Soraia.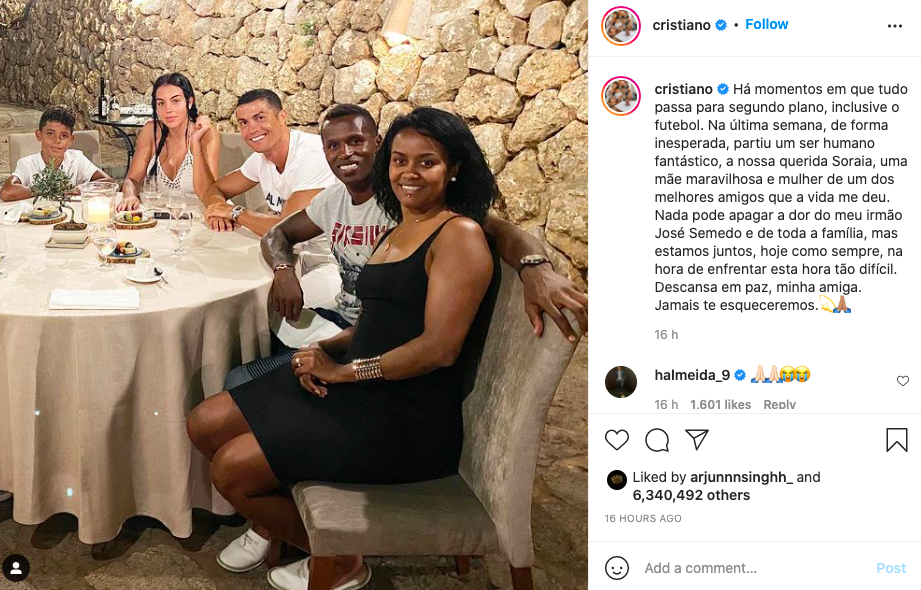 Ronaldo captioned his post: "There are times when everything takes a back seat, including football. Last week, unexpectedly, a fantastic human being left, our dear Soraia, a wonderful mother and wife of one of the best friends that life has given me."

"Nothing can erase the pain of my brother Jose Semedo and the whole family.

"But we are together, today as always, in time to face this very difficult time.

"Rest in peace, my friend. We'll never forget you."

At Sporting Lisbon's youth academy, Ronaldo became friends with Semedo, an ex-Sheffield Wednesday and Charlton midfielder.

They've remained friends ever since, even going on vacations together throughout the years.

Semedo went so far as to say that he owed Ronaldo "everything" for keeping him on track as a youngster.

"I owe Ronaldo everything," Jose has previously stated. I would have been dismissed from the academy and returned to my old neighbourhood if it hadn't been for him.

"Many of my childhood pals are in prison or are drug addicts.

"I have no reason to believe I would not have taken the same course.

"I owe Cristiano my sports career, my children, and my lovely life."

Following Soraia's untimely death, Ronaldo is believed to have called his footballing friend - now at Vitoria - to console him and give his support.

Semedo appeared in almost 170 games for Wednesday and quickly became a fan favourite.