Published On
'Sir Roger': Liverpool Football Club, Fans Pay Tribute to True Legend
In his remarks for yesterday's official match day programme, Jürgen Klopp expresses his appreciation and respect for Roger Hunt.
Author :
Sheetal J Bhalla
Sir Roger
Hunt, a Liverpool icon and the club's second-highest goalscorer, passed away earlier this week at the age of 83.

Before the game against Manchester City yesterday's afternoon, it was decided to have a minute of applause, and a mosaic on the Kop will also honour a World Cup champion known as "Sir Roger" at Anfield. However, the match between Manchester City and Liverpool club got draw.

Although Jürgen Klopp hoped that his squad can then go on to play like one of Liverpool's greats.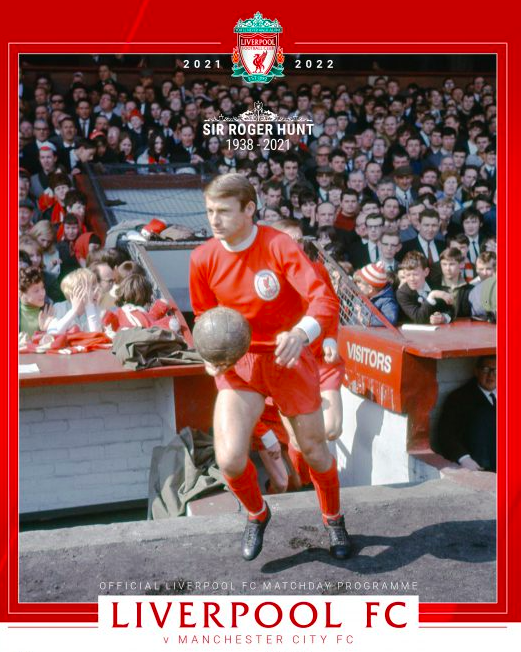 Liverpool Club Manager said before the game that they will pause to pay respect to a person who, as much as anybody, is responsible for making moments like today matter as much as they do to Liverpool Football Club. Sir Roger Hunt, who passed away quietly earlier this week, was a real legend.

Further, he said "I've tried to learn as much as I can about the people that created this institution on their skill, devotion, personality, and accomplishments since I've been in Liverpool. We stand on the shoulders of legends."

"Sir Roger is a legend whose contribution can be matched but not surpassed by others. His goals propelled Bill Shankly's club into the Premier League, where they went on to win league championships and the FA Cup. His style of play meant he set the standard from the start of the game. His innate skill was complemented with a mentality of working harder than everyone else and doing all in his power to assist his colleagues and team."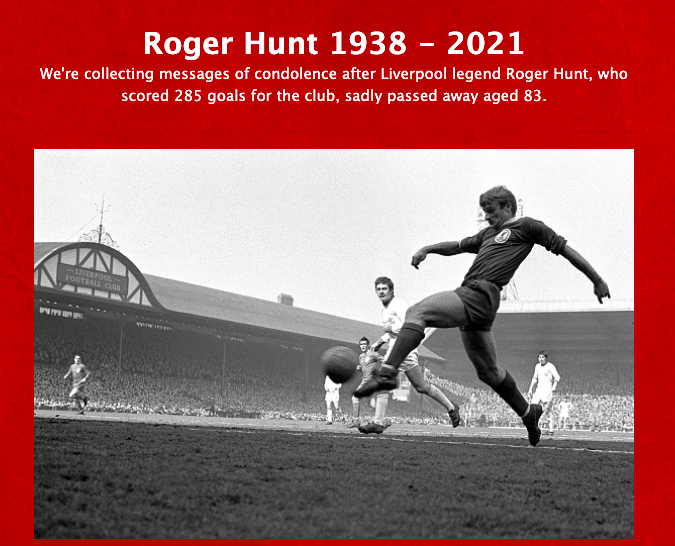 "Everyone I've talked to who has seen him play believes he would have fit right in with our group. I hope his family finds solace in the outpouring of love and gratitude. I hope they realise why Liverpool supporters refer to him as a "Sir" once more. I saw a remark from him where he said that honour from the Kop meant more than it could possibly mean from any other place or organisation. We take a moment to remember and pay tribute, and then we attempt to play in the manner in which he would have been proud of: be selfless, committed and adventurous." He concluded.

Roger Hunt, who died on Monday at the age of 83, was the Reds' second-highest goal scorer with 285 goals in 492 appearances over a period of more than 11 years at the club.

Under Bill Shankly, he was a key member of the team, earning the moniker "Sir Roger" from the supporters.

Liverpool supporters have expressed their condolences and recalled the legendary forward since his death.

Brian Rushton said, 'Roger was always my idol and a footballing inspiration from when I first stood on the Kop in the early 60s. A wholehearted yet scrupulously fair player with a blistering shot and eye for goal, who will always be a legend at Liverpool. I'm told that he was also a true gentleman. R.I.P, 'Sir Roger'.'

'You were my first hero as a kid and I loved to see you play. No one has ever come close to you in my eyes. I am so sad to hear of your passing but at least you can play up front with the Saint and all the other greats from Shankly's stars in heaven. RIP Sir Roger my hero!', said by Richard Dickinson.

Another fan Thomas Matthews said, 'What a player and a true gentleman, they don't make them like that anymore. Happy memories of many goals like the one above. Thank you Sir Roger RIP YNWA'.