Published On
Shikhar Dhawan requests to reconsider 'MASS KILLINGS of DOGS' as Kerala Govt awaits Supreme Court's nod
Shikhar Dhawan took to his Twitter handle and wrote that it is horrifying that the mass killing of stray dogs has been taking place in Kerala and urged the State Government to reconsider its decision to cull the stray dogs
Author :
Ujjwal Samrat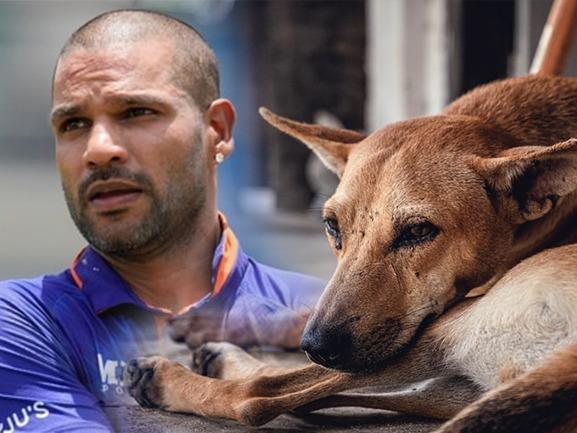 Team India veteran cricketer Shikhar Dhawan on Friday expressed his shock on his Twitter handles about the ongoing mass killings of stray dogs in Kerala. Shikhar Dhawan took to his Twitter handle and wrote that it is horrifying that the mass killing of stray dogs has been taking place in Kerala and urged the State Government to reconsider its decision to cull the stray dogs and put an end to such brutal killings. Recently, the Kerala government announced that it would seek permission from the Supreme Court of India to euthanize aggressive and rabies-infected stray dogs in light of the rising number of incidents of lethal stray dog behavior and rabies deaths. The announcement by the Kerala authorities attracted mixed reactions from netizens on social media.
Here's what Shikhar Dhawan wrote-
This is so horrifying that mass killing of dogs in #kerala is taking place. I would request to reconsider such moves and put an end to these brutal killings.

— Shikhar Dhawan (@SDhawan25) September 16, 2022
For the unversed, from the past few days, multiple videos are doing rounds showing stray dog menace on the streets of Kerala. In fact, recently a frightening video went viral from Kannur, Kerala in which a group of stray dogs were seen chasing after some kids. Fortunately, the kids managed to get into the compound and slam the gate just before the dogs made their way into the building premise. However, it was the incident in Kottayam which shocked the entire India and netizens on social media. Like Kannur, a video from Kerala's Kottayam district went viral where a dog accused of attacking people was beaten to death and then publicly strung up in the wake of a spate of vicious attacks on humans, including children, in the state.
Bihar Thief Video: Caught during attempt, thief in Bihar dangled through window's grills for 10 KM, Video Viral; Watch
@ Kottayam. WA forward....Very pathetic and barbaric behaviour of people of Kerala on these stray dogs which will ask only for food nothing else.But how one can do this to this speechless creature...Highly condemned....very disturbed..... pic.twitter.com/WkHhhM1iqW

— Modi-fied-iyer (@modifiediyer) September 14, 2022
Furthermore, another report suggested that more than a dozen stray dogs were found dead allegedly due to poisoning in some areas of the southern state. While the measures taken by humans might fume dog lovers, many reckon that the public cannot be faulted for taking matters into their own hands seeing the provisioning situation of stray dog attacks in Kerala. The most perfect example of this is Kozhikode Mayor Beena Philip. Kozhikode Mayor Beena Philip had opposed the mass killings of the strays, however, Philip was forced to change her stance later in view of the prevailing situation in the state. She said people cannot be blamed for what they do.
What numbers suggest in the mass killing of stray dogs in Kerala
Reportedly, approximately 10,000 dogs will receive vaccinations every day. Kerala has long struggled with the stray dog problem. The report further suggest that there are an estimated 280,000 stray animals living on Kerala's streets, and their numbers are increasing by 20% annually. In addition, 900,000 additional dogs are kept as pets in Kerala. Approximately 100,000 people have been bitten by stray dogs this year so far, and 21 rabies-related fatalities have been documented.
It is pertinent to mention here that a few activists have appealed the case to the Supreme Court, arguing against the killing of the dogs and offering a range of potential solutions. The activists have pointed out the Prevention of Cruelty to Animals Act, 1960, which prohibits the killing of any animal (including stray dogs) by any means, would be violated if the court permitted the culling of the strays.