Published On
Team India can qualify for T20 World Cup 2022 final without playing the semi-final; Here's how
While fans and experts are banking upon India and Pakistan to play the T20 World Cup final at the MCG, the 'Men In Blue' can actually qualify for the Melbourne match directly
Author :
Ujjwal Samrat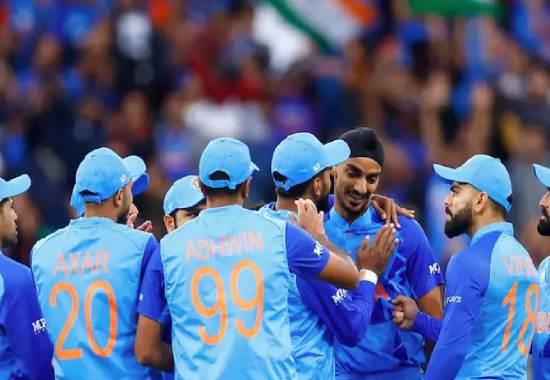 The countdown for the T20 World Cup 2022 knockout stage matches has begun as Pakistan will take on New Zealand on November 9, 2022, in the first semi-final, while Team India will lock horns with England on November 10. The result of the T20 World Cup 2022 semi-final will determine which two teams can play in the final of the coveted tournament of the ICC. While fans and experts are banking upon India and Pakistan to play the T20 World Cup final at the MCG, the 'Men In Blue' can actually qualify for the Melbourne match directly. Yes! you read it right. Team India has the chance to qualify for the T20 World Cup 2022 at the MCG without even playing the semi-final match. Here's how-
Rain has played spoilsport for many teams in the T20 WC 2022. However, the two semi-finals and mega-final at the MCG on November 16 are the only ones with a reserve day kept by the International Cricket Council (ICC). Imagine if rain causes one or both of the SFs to stop. It is shifted to the reserve days, and if the game cannot be played even on a reserve day, the team that placed first in the points standings advances to the World Cup's title fight. Meaning, India will lock horns with New Zealand in the T20 World Cup 2022 if both the semi-final will be washed out.
T20 World Cup 2022 Semi-final fixtures
1st semi-final – New Zealand vs Pakistan, November 9 – SCG, Sydney
2nd semi-final – India vs England, November 10 – Adelaide Oval, Adelaide
India vs Pakistan in the T20 WC 2022 final? Here's how it is a possibility now
What is the weather condition?
The chances of rain are 24% during the day and only 7% at night. Since the NZ vs PAK face-off will commence at 7 pm in the evening as per the local time, rain is unlikely to make an impact the proceedings. The humidity is expected to be 62% during the day whereas 68% at night. In terms of India vs England match in Adelaide on Thursday, it is expected that rain will have no rain interruptions. According to the Meteorological department, there is no chance of rain at the 06:30 PM (LOCAL TIME) start between the India vs England encounter. However, the weather is expected to remain partly cloudy throughout the day which gives an assurance of a full game without any rain interruption.