Published On
Twitterati criticised age gap between Sara Ali Khan, Akshay Kumar & Dhanush; Director says 'Watch the film first'
Well, Sara Ali Khan's age factor with her Atrangi Re co-stars Akshay Kumar and Dhanush was a point of disagreement for Aanand L Rai
Author :
Sheetal J Bhalla
In recent years, there has been much discussion over the large age disparity between male and female actresses in major Bollywood films.
For example, the film 'Prithviraj' received backlash for portraying 54-year-old Akshay Kumar as a historic pair alongside 24-year-old Manushi Chhillar. Shefali Shah, who plays Akshay Kumar's mother in 'Delhi Crime,' also claimed that she performed the character of Akshay Kumar's mother when she was approximately 28 years old, highlighting the apparent gap between roles written for males and those written for women.

The teaser for 'Atrangi Re,' a romantic comedy starring Sara Ali Khan, Dhanush, and Akshay Kumar, has added fuel to the fire. When the film's trailer was released online, many people were taken aback by the prospect of 26-year-old Sara Ali Khan romancing 54-year-old Akshay Kumar and 38-year-old Dhanush. Clearly, there is a significant age difference.

Personally, there were a handful of scenes in the trailer that made us uneasy. For instance, when Sara Ali Khan rushes up to Akshay Kumar and jumps on him and embraces him.
Or when she raised questions to Dhanush as to why she is unable to love two guys at the same time.

Or even when Sara and Dhanush are shown to be in a state of sexual tension in the film.

See some of the tweets by twiteratti' on Atrangi Re trailer: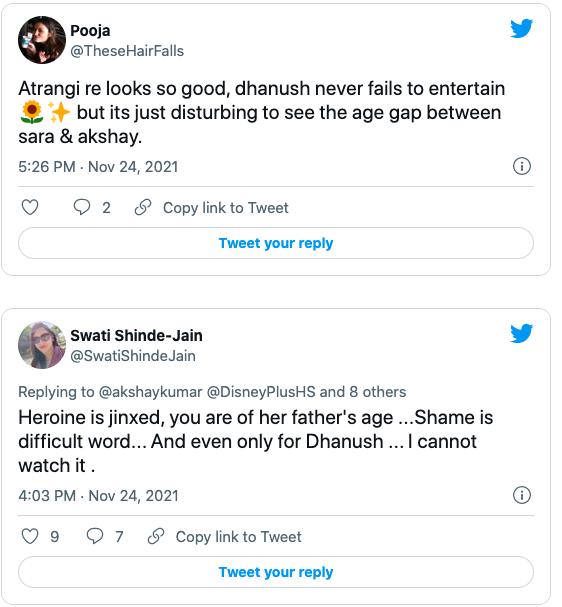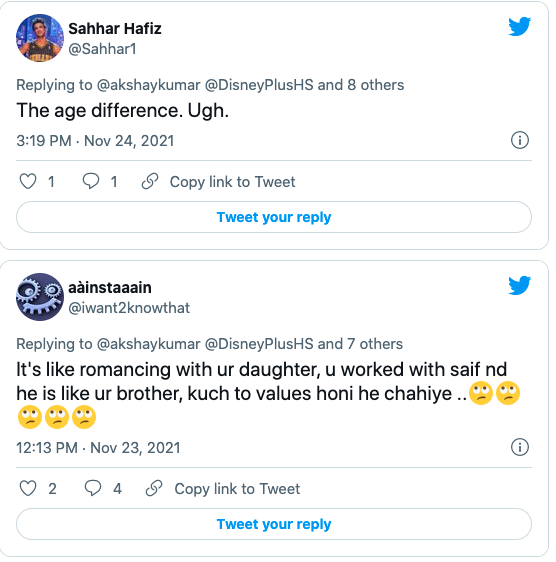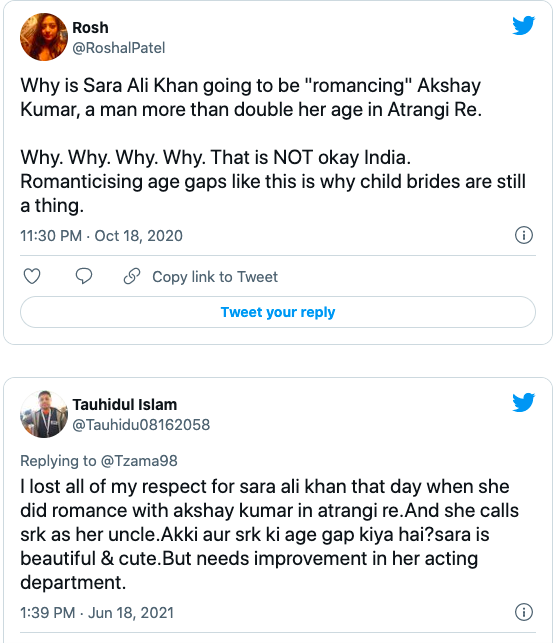 It's hard not to wonder why an older female performer, like as Sonam Kapoor, Kangana Ranaut, or Sonakshi Sinha, wasn't cast with these males for the film.

Every time a Bollywood film pairs an actress with a twice-as-old actor and shows them as a relationship when an older actress might have been cast, the concept that a female actor's career has a 'expiry date,' that she is only attractive and watchable while she is in her 20s, is regenerated.

Well, Sara Ali Khan's age factor with her Atrangi Re co-stars Akshay Kumar and Dhanush was a point of disagreement for Aanand L Rai. He advised everyone to 'see the film' before rushing to judgments in a new interview.

Aanand addressed the outrage over his casting choice in an interview with Mid-Day. "Atrangi" is a Japanese word that means "funnily strange." If a director is patient while producing a picture, it is his tiny expectation that the audience would wait and understand why such a cast was chosen. We have a tendency to pass judgement on others. "I want people to watch the movie for two hours and then respond to it," he stated.

"As a filmmaker, I'm not concerned." I'm not here to produce cliched movies. I can be chastised if I make a mistake. People who work in the film industry are always learning. With each victory, I have a better understanding of what is correct. "I learn what went wrong with every failure," he continued.

"I really think that you don't find love, it finds you," Aanand stated at the trailer premiere of Atrangi Re. The only thing you need to learn is how to be patient. It's all about love and emotions in Atrangi Re.

After Zero, which starred Shah Rukh Khan, Anushka Sharma, and Katrina Kaif, Atrangi Re marks Aanand's comeback to directing. The film was released in 2018 to mostly unfavourable reviews and a poor box office performance.

On December 24, Atrangi Re will be available on Disney+ Hotstar.